Fishiest Poker Sites for US Players
If you ask most online poker players what their motivations are for playing poker, you'll tend to get a very similar response. By and large the response will be "I play to make a lot of money". Most players get interested in the game because it's exciting and a fun game to play, but once players figure out it's a skill-based game, the profit potential becomes more obvious.
I highly doubt your reasons for playing poker are very different. Sure, it's a great form of entertainment, really addictive, and generally just a ton of fun to play, but if you want to take poker seriously, the end goal is usually to actually make some money playing it. It's a good motivation though, since losing money due to the mistakes you are making will force you to improve your game in order to adjust to the better players in the game and to play in bigger games where there is potential to make more money.
When you are deciding on which online poker room you want to play on, your first priority should be to pick easy to beat poker rooms that are full of fishy players. What better way to maximize how much money you can make than to play at the easiest to beat poker sites.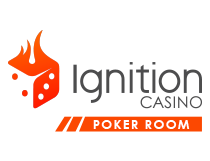 100% Bonus to $1000!
Ignition Poker - Cash Games Are Loaded with Fish
Ignition is a great site if you are looking for fish when you play online poker. The fact that the site is attached to an online bookmaker and casino site means that there is a vast array of players jumping from one discipline to the other, and as we know, this often provides a wide range of inexperienced poker players. Ignition definitely offers plenty of fish for you to enjoy playing against.

25% Bonus to $900!
BetOnline Poker - Best Choice for Easy to Beat Cash Games
Bet Online is an excellent choice for any poker fan that fancies making some money. This is because the site has a very strong reputation for having a big pool of fish to play against! This can sometimes work against a site but the popularity of Bet Online means that there are more than enough fish to go around so if you fancy grabbing some cash, this would be an ideal site to call home.

25% Bonus to $900!
Sportsbetting Poker - Easy to Beat Micro and Small Stakes Poker
Sportsbetting Poker is viewed as a good site in terms of fish with a lot of this being down to low deposit levels and low stakes. If you are keen to play to win, then this is a site that will impress you with plenty of opportunities to take advantage of the relative poor standard of play on the whole. With so many incentives to sign up for this site, Sportsbetting Poker looks like a place where you will find an array of weaker players to exploit.
With this in mind, poker site selection not unlike game selection is very important and will be one of the contributing factors that will determine your success at the tables. Some online poker sites are just going to be so much easier to beat then other more established poker rooms.
For example, if you have experience playing at an online poker site like Pokerstars, then you would know the competition is generally going to be stronger than if you were to play at a new poker site that isn't as well known and have as much traffic. For this reason we advise you to play at one of the smaller online poker rooms that still have good game selection for the games and stakes you like to play and good promotions for new players.
You would think that even the highest traffic online poker sites would be fairly easy to beat at micro-stakes and the lowest stakes games. However, at some of these hugely popular poker rooms, due to their popularity, it tends to attract the sharks, and it's not uncommon to find regular players even at the micro stakes games.
How Can I Size Up My Opponents? How I Find Cash Games with Fish?
You can profile these kinds of players fairly quickly by opening up a few ring game tables at the same limit, and if you see the same player playing on a lot of tables, then you can be sure he or she is a multi-tabling regular, and likely a pretty good player that you don't want to play against. Why would you want to be seated at the same table as these players when through smart poker site selection and by finding easy to beat poker rooms to play on you can be playing against much weaker players?
Whether you consider yourself primarily a tournament or cash game player, all you really care about is finding an easy to beat poker room that has enough action for the games you play. At micro sakes to mid stakes games, most online poker rooms will have enough tables to make it easy finding a suitable game against less experienced opponents.