Prepaid Visa US Poker Sites
The poker sites accepting VISA for online poker deposits also accept prepaid VISA debit cards. It should go without saying that online poker rooms are doing everything they possibly can so they can process Visa poker deposits because they know it's easily the most convenient way to fund a player's account. Furthermore, in the current online poker environment, rooms cannot afford to lose customers over inflexible deposit options.
Poker deposits with a USA pre-paid VISA includes using a Visa Debit Card, Visa Electron Card, or Prepaid Visa Cards. The Visa Electron card is not available for Americans, but rather it's made available in European countries and can be used in much the same way, as either a debit card or credit card.
Best US Online Poker Rooms for December 2022
Rank

Play Now

Poker Room
Bonus
Poker Room Highlights

1

100%

up to $500

100% up to $500 Bonus + VIP Rewards
Weekly $100,000 Guaranteed + Overlay
Accepts Bitcoin & Visa

2

100%

up to $1,000

100% up to $1,000 East to Clear Bonus
Biggest Poker Room for US Players
Accepts Bitcoin & Visa

3

100%

up to $600

100% up to $600 Bonus + Daily Cashback
Wide Spread of Games + Mixed Games
Offers Mac / Windows Software

-->
All of these prepaid payment methods for online poker deposits are a good choice for recreational poker players who prefer to pay for stuff using cash upfront, or don't have the available line of credit on a credit card. These cards can be purchased at places like gas stations, grocery stores, Wal-Mart, Walgreens, etc. There is a small $1 or so fee, which you have to incur, but once you have the pre-paid card, putting more money onto the card won't incur additional charges. The only real problem is finding easy to beat US poker sites that accept Visa debit cards and gift cards.

25% Bonus to $900!
BetOnline Poker - #1 Prepaid Visa Poker Room for USA Players!
Bet Online accepts payments from players using prepaid Visa cards, making it an ideal choice for many US poker players. If you would rather keep a closer eye on your expenditure and ensure you stay on top of things, using a prepaid card is the ideal way to do so. With an initial deposit bonus available from $50 and a number of great games and tournaments to choose from each week, Bet Online is a brilliant choice to use your prepaid Visa card with.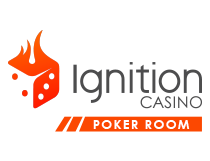 100% Bonus to $1000!
Ignition Poker - #2 Prepaid Visa USA Poker Site!
Ignition is one of the biggest names in US online gaming so it is no surprise that it offers a number of benefits to players, including the ability to deposit with a prepaid Visa card. The comfort and convenience that comes with this payment method sits neatly alongside the 100% matched deposit and the huge $100,000 in tournament guarantees that you can find on the Ignition site each week.

200% Bonus to $5000!
Carbon Poker - #3 Prepaid Visa USA Poker Site!
Carbon Poker provides a number of payment methods for US players, including prepaid Visa cards so you use this site with great confidence. A lot of players enjoy playing on Carbon Poker because it pays out swiftly but the tournaments are also a huge draw. If you have poker experience and even reasonable poker skills, the number of fish available on site provides a further incentive to have register with Carbon Poker.

200% Bonus to $2000!
Sportsbook Poker - #4 Prepaid Visa USA Poker Site!
Sportsbook is a US poker site that provides a number of payment options including prepaid Visa cards. This is an extremely popular choice with many US poker players because it provides a greater degree of control over how much you deposit to a site. With a 100% matched deposit bonus on offer for new players, you should find that you can make your bankroll last longer when it comes to the Sportsbook poker room.

25% Bonus to $900!
Sportsbetting Poker - #5 Prepaid Visa USA Poker Site!
Sportsbetting is a US friendly poker site that has a lot of good aspects going for it, not least the ability to pay with a prepaid Visa card. There are lots of poker players that appreciate the comfort and convenience that comes with a pre-paid card so why not take the opportunity to give yourself an added level of protection. There are more than enough great options to really enjoy your time on Sportsbetting.
For poker players accustomed to using Visa credit cards, there is very little difference between a US Visa credit card deposit and a US prepaid Visa poker deposit. Visa debit card deposits are free of charge because you are not using your line of credit. So it should go without saying that prepaid cards allow you to better spend money since you don't have the temptation of using credit simply because you have it. Furthermore, US poker deposits with Visa prepaid cards allow you to enjoy the convenience of a credit card account by being able to pay for things at any of the same locations you would use a Visa credit card. You can use them exactly like you would a credit card, just without all the hassles of managing one.
When you make a deposit to any of the US poker sites accepting prepaid Visa cards, the deposit is almost instant. Simply log into the poker client with your username and password, click on the "Cashier" button, and players should see the VISA logo to make the deposit.
Not unlike VISA credit card transactions, when you enter your prepaid card number and other details to make a deposit, all personal information is encrypted when it is stored and transmitted by the site via SSL encryption, which means all credit date and all the information is secure.
If you are looking to withdraw your poker winnings back to your prepaid Visa card, do some research to find out if the online poker sites offer Visa as a withdrawal option.
Additionally, in order for deposits back onto your prepaid VISA card to work, the card must be CFT enabled, so you will want to check if this applies for your card, otherwise expect for the withdrawal to be declined and have to choose an alternative withdrawal method such as wire or courier check.